Asphalt Contractor in Roswell, NM
Desert West Enterprises is proud to be New Mexico's number one licensed paving contractor—a reputation we've earned by assuring top quality work at affordable prices. Discover why we're the top choice for paving, micro-surfacing, seal coating and parking lot striping today and contact our experts regarding your next project.
Saving the Paving in Roswell Since 2006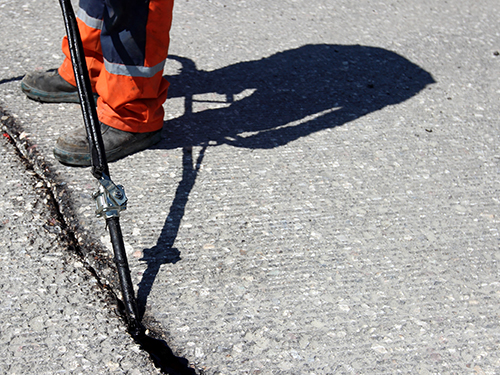 Since our founding in 2006, Desert West Enterprises has been paving the way of the future for Roswell, one parking lot at a time. Locally owned and operated, we boast over 20 years of combined experience in paving, micro-surfacing, sealcoating, and parking lot striping, among other asphalt services. Our paving contractors in Roswell, Chaves County, Acme, Border Hill, and Dexter, NM are dedicated to providing nothing less than professional expertise and the quality services that are necessary to help you pave, protect and repair your investment—all while making sure the surface looks great. We provide everything you'd expect from other top-level paving companies in Roswell, NM with the ability to go above and beyond in our level of workmanship and expertise!
Tired of putting up with unsightly cracked pavement, destructive potholes or damaged asphalt in your parking lot or road? Desert West Enterprises has the staff and dumpster rentals to offer a complete line of repair and refinishing services, including general concrete repair, road resurfacing, chip and fog sealing, micro-surfacing, road oiling, and parking lot striping. Our team will get the job done flawlessly, ensuring nothing but the best surface for years to come. We know you have a choice when it comes to paving companies in Roswell, NM, which is why we position ourselves at the top of the pack in every way possible. When you choose us, you're choosing:
Contractors with over 20 years' professional, hands-on experience in projects of all sizes and scopes.
Asphalt contractors that are fully licensed by the state of New Mexico, for your peace of mind.
The only paving service in the state that offers full-service micro surfacing!
A paving contractor that is locally-owned and -operated in Roswell, NM, boating familiarity with the area.
A member of the Better Business Bureau (BBB) with a superior rating.
Consult with an Expert
Our job is to make your asphalt pavement last longer and look better. We look forward to assisting you with all of your asphalt contracting needs. Contact us today to get started.
Desert West Enterprises is the premier asphalt contractor for paving and related services to the following Southeastern New Mexico areas:
Roswell, NM
Chaves County, NM
Eddy County, NM
Lea County, NM